We buy junk cars & sell used auto parts in the Milwaukee area.
Junk car pickup - Up to $10,000 cash for your used vehicle!
Our competitors lowball you: Many of our competitors will lowball you, buy your junker for a minimal price, turn it over to us for its real value, and pocket the profits. Seriously, this is constantly happening.
Sturtevant Auto pays good money: We pay the highest price for junkers. We'd rather pay you than some middleman trying to get between you and the cash you deserve.
Check for yourself: Ask around. Get prices. Call other junkyards in Milwaukee, Racine, Kenosha or even Lake Forest and Waukegan, Illinois. Ask used auto dealers about your trade-in value. We'll offer you the most money for your used car, running or not.
We Buy Salvage Vehicles and Sell Their Used Parts
Our Racine-area junkyard buys salvage vehicles, removes the parts, and sells those parts for a fraction of what they cost new. Repairing your car with quality, used OEM part is a lot less expensive than using new parts. Many of the cars we buy have like-new parts. Here are some of the parts you can expect to find at our Racine location:
Can You Trust Salvaged Auto Parts to Repair your Car?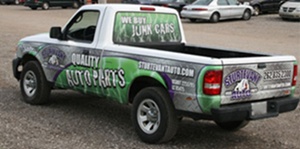 We understand your concerns about used auto parts and want to reassure you the used parts we sell have been inspected prior to sale, and most are backed by a 90-day warranty.
Sturtevant Auto has a 60 year legacy of integrity to uphold. We wouldn't survive as the best southeast Wisconsin salvage yard without a long track record of customer satisfaction. If the parts we've sold weren't safe, there's no way we could have stayed in business.
Ready to get top dollar for your unwanted vehicle? Need a used auto part? Contact our Milwaukee-area salvage yard.
Used OEM Parts Available at Sturtevant Auto
Hassle-free junk car removal within
35 miles of Sturtevant Auto
Get rid of your junk car and get paid for it! Sturtevant Auto will come to your house in Wisconsin or Illinois and remove your junk car or pickup truck once and for all.
Live just outside our pickup range? Give us a ring. Depending on what you have, we may come get it.
Maintaining our huge inventory of used parts is only possible because we pay top dollar and go to great lengths to buy junk cars. Call us for a quick phone estimate on your junker: 262-835-2914.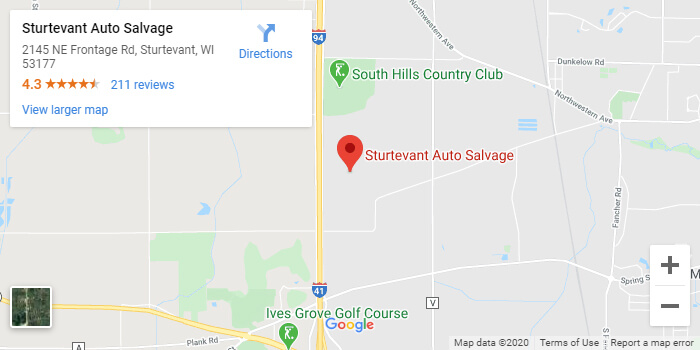 Sturtevant Auto is located between Milwaukee and Chicago, just south of the Racine – Milwaukee border on I-94. We're just minutes south of 7-Mile Fair on the northbound frontage road between Highway K and Highway 20.
---
Join Our Auto Salvage Team Today!
Sturtevant Auto Salvage is a family owned and operated Automotive Recycling Facility in Mount Pleasant, Wisconsin with values focused on providing you all your automotive part needs through exceptional customer service. We carry an extensive vehicle parts inventory and also pay TOP DOLLAR for used and unwanted vehicles.
NOW HIRING:
Towing Dispatcher - Full Time
Auto Dismantler - Full Time
Weekend Counter Help - Full & Part Time
---
No Title on Your Junked Car? No Problem
On top of giving you the best value for your used car, Sturtevant Auto may purchase your non-running car without a title. Call or email us to find out if we will buy your junk car or pickup truck without a title.
Cash for Unwanted Vans
Your old mini-van isn't as worthless as you think. Sturtevant Auto will pay you top dollar for your junk van. Running or not, water damaged, fire damaged, completely totaled -- we will pay you to take it off your hands.
Your Dead Work Pickup Truck Can Still Work for You
It's time to say goodbye to that old truck, and we've got great news. Sturtevant Auto would love to buy your old, unwanted truck. Sell it to us and get the best cash offer possible, or keep it running longer with our used OEM parts.
Big inventory, Bigger savings
Sturtevant Auto lives up to our reputation as the best junkyard between Milwaukee and Chicago by providing independent mechanics and do-it-yourselfers the best selection and the best prices on used auto parts in Wisconsin.
Best Deals on Used Tires in Wisconsin
New tires are expensvie, especially if you have to change all four tires at once. Why spend 25% of the value of your car on new tires when we have used tires for far less?
If your tread is low, come to Sturtevant Auto and shop our used tires.
We've got the best prices on used tires in the Milwaukee area. Call 262-835-2914 for more information.
SALE: All Tires $20 (excluding sets)
Used Auto Parts for Most Makes and Models
Our massive inventory of vehicles lets us serve our customers with used OEM parts for just about any make, model and year vehicle.
We have a huge selection of parts for these auto manufacturers:
Have a vehicle not listed here? Give us a ring to find out if we have the parts you need.
Parts for SUVs - We've Got 'Em
Sport Utility Vehicles seem to be everywhere now. In 2015 alone, over 5 million SUVs were sold in the U.S. At Sturtevant Auto, we'll help you keep your SUV running with our huge selection of used OEM auto parts -- all available at surprisingly low prices.
If we don't have the part you need, we'll find it
We accept all Cars, Pickup Trucks, Vans, and SUVs
Don't let your old junker take up driveway space just to rust and fall apart. Your old car is worth money. We guarantee you top dollar for your vehicle and there's no charge for having us pick up your vehicle. Just give us a call and we'll give you an estimate of your vehicle's value.
We buy junk cars, no matter the condition of your vehicle, even if it's:
Donating Your Old Car vs Selling it to Us
Many "non-profit" agencies promote donating a vehicle to charity as a great tax benefit. Unfortunately, there are many scams posing as charities who will take your vehicle, sell it for scrap and pocket the money. While donating your car is a noble cause, it's easier and less risky to contact Sturtevant Auto, collect the cash for your clunker, and then donate the money to a reputable charity.
How Much Is Your Junk Car Worth?
The current market prices of metal and steel affect the value of your vehicle. They're constantly changing, so if you call a salvage yard and get a quote today, but sit on it until next week, don't be surprised if the value changes. At Sturtevant Auto, we always offer top dollar for your vehicle, whether you drive it in or we pick it up. Just be aware the price may dip if salvage prices dip.
Posting your Car on Craigslist? Think Twice
Craigslist, while useful, is a major source of headaches. When you post your car for sale on Milwaukee Craigslist, be prepared for flake-outs, haggling and dealing with the DMV to get the title transferred over. Could you make more money? Maybe. Is it worth the headache? Not when you can make one call to Wisconsin's top salvage yard and get cash for your clunker quickly and easily.
We Pay Top Dollar for SUVs
Sport Utility Vehicles take a lot of abuse. Small children savage the inside while the potholes and road salt of Wisconsin and northern Illinois winters take care of the exterior. If your SUV is past the point of no return, Sturtevant Auto will take it off your hands.
Our auto salvage yard will pay for your wrecked, damaged or unwanted truck or SUV. If your Chevy Equinox needs a new transmission or your Honda CR-V has extensive body damage, Sturtevant Auto will give you top dollar for it.
Contact our Milwaukee area salvage yard to sell your junk car or find the used auto part you need.